RED CIRCLE COURTS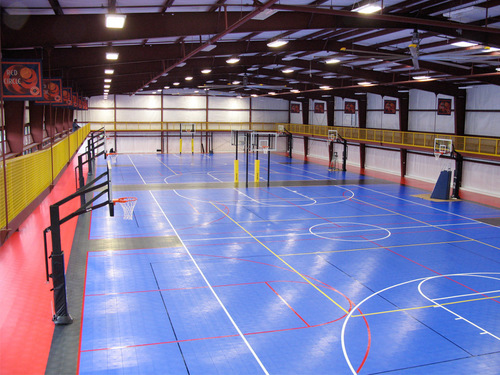 McDermont Field House has two NCAA regulation basketball courts with a Sport Court surface.
There is room for four smaller courts that are used for youth basketball games.
The Red Circle Courts also become volleyball courts for leagues, tournaments or for open gym.
They have been futsal and dodgeball courts as well. This is one of the
most versatile spaces in McDermont Field House, having been a concert hall,
a banquet room, wedding reception area, and more!
The Courts are regularly home to youth basketball,
MBA Men's Basketball, and both yourh and adult volleyball leagues.
There are three Sport Walls within the Red Circle Courts.
The Sport Walls have several interactive games that can be
used for athletic training, relays, races and more.
Ask a McDermont Team Member for more info regarding the Sport Walls.
If you would like to rent the Red Circle Courts for any type of event or function,
please contact McDermont Field House at (559) 562-3326.